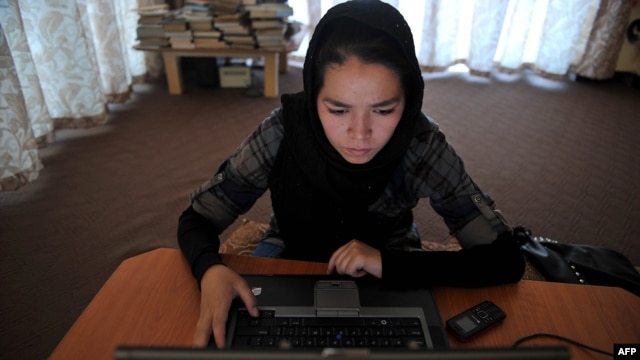 By Farangis Najibullah
April 11, 2013
High-school student Muhammad Akbar has never dated a girl in real life, but he's got plenty of girlfriends on Facebook.With social and religious taboos restricting face-to-face contact between unrelated members of the opposite sex, Facebook's popularity has skyrocketed as a virtual meeting place in Afghanistan.Akbar spends nearly an hour every evening in a packed Internet cafe near his home in Kabul's Shah Shahid area to chat with his female "friends." To pay for his online habit, which costs about 100 afghanis ($2) an hour, he has taken a part-time job as a garage assistant."In Afghanistan, we don't have disco clubs to meet with girls. It's not allowed here to go on a date with girls, to meet and talk with them face to face," Akbar says. "Marriage is the only way to have a relationship with a woman, but many people can't easily afford to get married. Facebook has solved that problem for many."
Bright Spot
Akbar says chatting with girls online has made life in the war-torn, poverty stricken country "a lot less frustrating."
While being seen chatting to an unrelated boy in public can tarnish a girl's reputation, "with Facebook, there is no risk of being beaten up by your female friend's relatives," he reasons.
Such advantages have fueled a sharp rise in new Facebook accounts.
According to the Communication and Information Ministry, there are now more than 470,000 registered Facebook accounts in Afghanistan, compared to 6,000 in 2008.
Some 2 million of Afghanistan's 30 million people have access to the Internet, according to the ministry, mostly through Internet cafes and mobile phones.
About two years ago, Ahmad Sipehr learned about Facebook when a classmate at a Kabul university helped him join the social network. The revelation prompted him to open up his own Internet cafe.
"I would travel several kilometers to the nearest Internet cafe just to use Facebook," Sipehr says. "Then I decided to open an Internet cafe myself. It was Facebook that prompted me to open this business."
The 21-year-old journalism student now runs one of the busiest Internet cafes in downtown Kabul. Sipehr frequently helps visitors open Facebook accounts for the first time, and before long they are regular customers.
Click here to read the full article
source:  rferl.org / Farangis Najibullah